Now that spring is here, I've been spending a lot of time digging around in the many gardens around my house. There are six separate garden areas, many of which were not very well maintained when I first moved in, and I've been trying to tackle them one at a time.
Unfortunately, one of them got pretty badly overrun with grass, and I'm still sore from digging it all up, which took about 3-4 hours. About half of the gardens now have mulch, and I transplanted a couple of perennials.
Yesterday it was time to pick up some annuals. My mom and I took a trip to
Cierech's Greenhouse
, and my purchases included:

Mediterranean Apricot Broadeye Trailing Vinca
Snow Crystals Alyssum
Accent White Impatiens
Elation Crimson Dianthus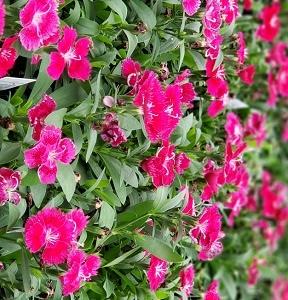 I haven't had a chance to plant any of them just yet, but I'm planning to take Friday afternoon off to do so. Can't wait for them to join the
Blue Flax
, the
Gloriosa Daisies
, the
Rozannes
, and the many, many varieties of
Clematis
, among others.
I can't wait to share photos of my gardens once I have everything planted!
And no, it's absolutely no coincidence that
so much
of the jewelry
I make
involves
flowers
. ;-)
Do you enjoy gardening? What's your favorite flower??